Tripes à la mode de Caen
A classic recipe of French cuisine, according to the tradition of the capital town of Calvados, in Normandy.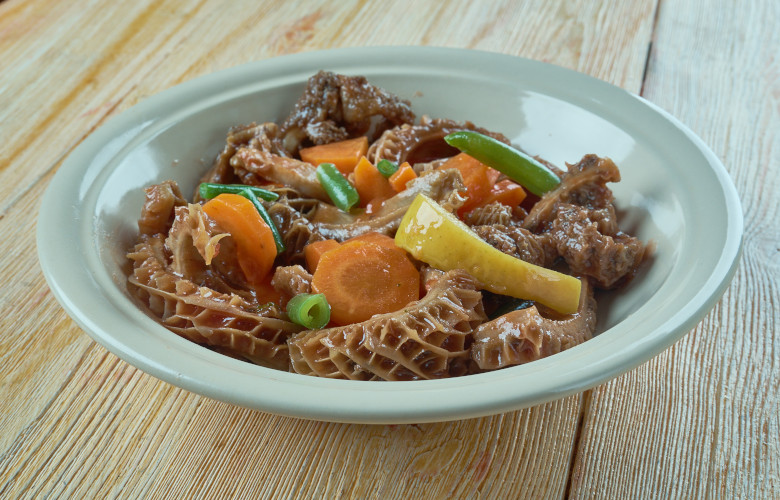 Ingredients
2.5 kg of tripe
1 ox foot
2.5 hg of pork rind
3 cups of cider
8 cups of broth
3 cups of carrots
2 leeks
2 cups of onions
1 tablespoon of Calvados liqueur
1 bay leaf
1 clove
1 sprig of thyme
1 clove of garlic
1 tablespoon of salt
1/2 a teaspoon of peppercorns
Directions
In a saucepan, boil the ox's foot and the pork rind for fifteen minutes. Drain everything, cool under running water, bone and cut the meat into squares about two inches on each side.

In a earthenware pot, put the tripe, pork and beef meat, cider and broth or water. Bring to a boil, cover with a lid, lowering the heat to minimum and simmer for five hours with something heavy on the lid to minimize steam escaping.

At the end of this first cooking period, during which the volume of the tripe will be reduced by half, remove from heat and put in refrigerator all night.

The next day, bring the tripe back to a gentle boil, add the sliced ​​carrots, the sliced ​​leeks and a gauze bag containing bay leaf, thyme, crushed garlic, crushed peppercorns, and cook for another five hours.

When it is time to remove the tripe from the heat, add the calvados and a spoonful of salt. The broth will be a delicate amber color and the vegetables they will be extraordinarily sweet and tender like tripe. Eliminate the gauze bag and the fat on the surface of the cooking liquid and serve very hot.